Monyhull
B14 - Grid reference SP066794
Monhull: first record 1237
This placename probably derives from the Old English, Manna's (or Munda's) hyll meaning simply 'Manna's Hill'. However, the name is possibly a rare Celtic survival in this area: monadha is Ancient British for 'hill'. In this case the name translates as 'monadha hill' or 'hill hill'.

It is known that there was an estate of Monyhull in the manor of Kings Norton in 1237, and it is believed that a moated manor house stood on the present site of Monyhull Hall. The hall itself is not found in records until 1608. At the time of Henry VIII's dissolution of the monasteries c1543 the manor was held by the College of Priests at Westbury in Gloucestershire, though how that had come about is unknown. As well as having a home farm, the manor derived rents from an estate at Groveley, from a dwelling at Ekelyngstret (possibly Icknield Street) and from a farm known as Brantyrene.
As a result of the Dissolution both Westbury College and Monyhull were granted by the King to Sir Ralph Sadleir, who sold it shortly afterwards to William Sparry of Puyhulls Hall, a long-time resident of Kings Norton. The manor then passed down through the Sparrys, by now a family of Roman Catholic recusants, until 1610 when Daniel Sparry, heavily in debt as a result of recusancy fines, sold it to William Child. The hall appears to have been passed down through his family until the middle of the 18th century when it was owned by John Arderne, and shortly afterwards by Girton Peake. There is no further evidence of its descent.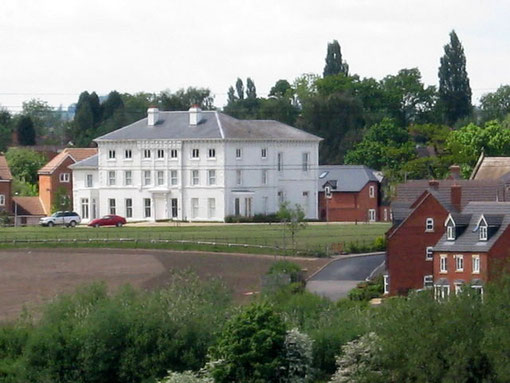 Take a look. The present Monyhull Hall is of 16th century origin, and was built probably by a member of the Sparry family. In 1750 it was was rebuilt with three storeys in neo-classical style by John Pountney. Though altered in the 19th century, the main building still survives in its Georgian form and is a Grade II Listed building.
Examination of beams in the cellar and roof revealed mortises and peg-holes which are unrelated to their present function, an indication that the timbers had previously formed part of the earlier timber-framed building.
Image by Michael Westley downloaded from Geograph SP0679, reuse permitted under Creative Commons licence Attribution-ShareAlike 2.0 Generic (CC BY-SA 2.0). See Acknowledgements for a link to the Geograph website.
The hall was in the possession of the Millward family from 1864, and later the Cocks family who knew it as Manuel Hall. In 1905 the hall with its estate was sold to the Guardians of the Poor for Birmingham, Kings Norton & Aston as a mental hospital and it was known as the Monyhull Colony. The intention was to develop a self-sufficient community with the patients working the farmland to supply their own needs.
During the First World War, the buildings were used as a military hospital. Monyhull was closed as a hospital in 1998. Work began in 1913 a residential school for epileptic and mentally defective children on the site, but was interrupted by the outbreak of the First world War. The school finally opened in 1920 as St Francis' Residential School. Now known as Lindsworth School, the residential blocks are still in use.
In the mid-1960s Birmingham Council bought a substantial part of the Monyhull estate and developed it with some 2000 houses. As part of further housing development on the site in 2000, work began to demolish the 18th-century brick barn. As it was being dismantled the unexpected discovery was made of a substantial 16th-century timber roof. Dendro-chronological dating revealed that these timbers had been recycled from some earlier building and that the trees had been felled between the years 1486 and 1501. They too may have been reused from the earlier Monyhull Hall.
The hall itself has now been converted into apartments, Monyhull Road is the tree-lined drive up to the house, with a further 600 houses built on the hospital site which is now known as Monyhull Grange.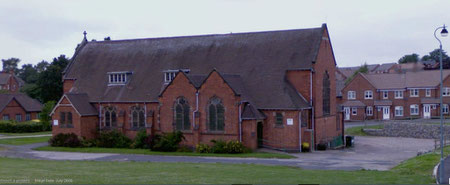 Monyhull Hospital Chapel opened in 1917 and was later dedicated to St Francis.
From 1995 South Birmingham Evangelical Church used the building, which was renamed Monyhull Church in 2004. It is to be developed as a combined church and community centre for the new estate.
William Dargue 01.08.2010/ 23.07.2012
For 19th-century Ordnance Survey maps of Birmingham go to British History Online.
See http://www.british-history.ac.uk/mapsheet.aspx?compid=55144&sheetid=9258&ox=650&oy=433&zm=2&czm=2&x=41&y=168.
Map below reproduced from Andrew Rowbottom's website of Old Ordnance Survey maps Popular Edition, Birmingham 1921.
Click the map to link to that website
.
Further Reading and references
Original article [HERE]
[ http://www.asylumprojects.org ]
[ http://www.workhouses.org.uk ]
[ http://discovery.nationalarchives.gov.uk ]